The Dawn of Influencer Marketing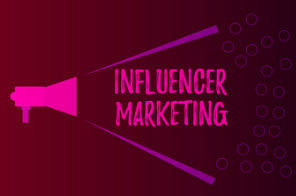 In the modern competitive landscape of digital marketing it has become increasingly more difficult for businesses to effectively reach consumers online. This is due in part to the expanding rate of multiple marketing messages bombarding consumers on a daily basis. As the rate of consumers who utilise online channels increases, many businesses have no choice but to compete and show up in an online world even if their product is delivered offline. 
With the majority of businesses now engage their customers online, the activities they have to master are diverse: paid online advertising with several channel options to consider, blog content, search engine optimisation, webinar content, video marketing and social media marketing. 
One method that has seen growing success is influencer marketing. Influencer marketing focuses on engaging influential people to communicate to their followers about your product of service, rather than trying to directly engage the target market directly. For example, a cosmetic brand launching a new line of makeup products can leverage a popular social media personality or celebrity to endorse promote the products via their existing social media channels. In this situation the social media influencer is paid a specified amount to promote the brand's new products via their own social media channels. This method of marketing can be more cost effective than traditional methods, as a carefully selected influencer is able to reach a large proportion of a target market more effectively and who are likely to have a keen interest in the products or services promoted. 
Using an influencer to promote a product also enables the brand to leverage the credibility of the influencer. People who follow influencers online will have a relationship with these individuals and trust their opinions, therefore in a typical scenario when influencers are seen to promote a product their followers will be favorable to their opinion. 
Influencers aren't limited to social celebrities but can include those known to have expertise in particular areas. 
When developing a plan to utilise an influencer as a marketing strategy, it is important to properly match the influencer to the product or service. The target market of the influencer must be accurately aligned with that of the product. 
Overall influencer marketing is a strategic promotional option that can help support your marketing campaigns. If used correctly influencer marketing can provide a cost effective method to promote a product or service online. This style of marketing is also especially helpful as it ensures interaction with a specified target market and creates engagement with consumers, through their relationship with the influencer.
Whilst to date influencer marketing has been more relevant to business to consumer brands and products, increasingly B2B marketers are looking to opportunities with niche and micro influences relevant to their brands. 
Ready to take the next step with your online marketing? Contact Affinity Marketing today.